White Label NFT Marketplace: A Complete Beginner's Guide
September 18, 2023

348 views

19 minutes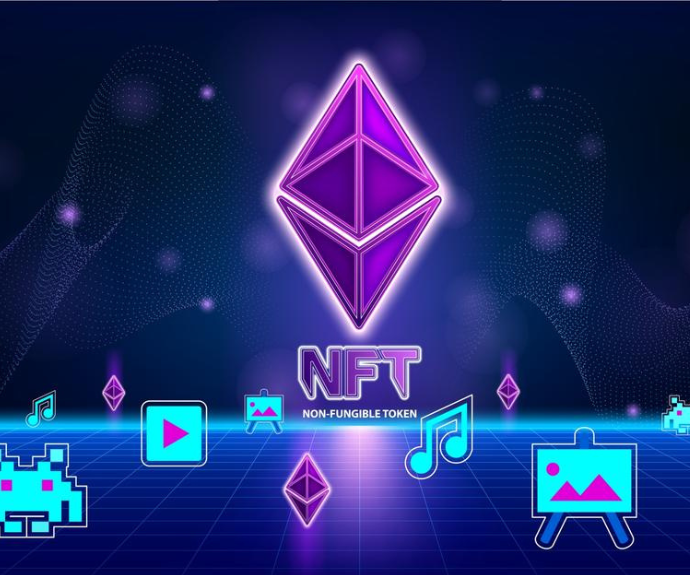 In today's digital era, Non-fungible Token (NFT) is the hottest topic, disrupting the art and gaming industry especially. With more and more people willing to invest in these unique digital collectibles, the market of NFT is booming right now.
With the prompt growth in NFT sales over the last few years, the blurry concept of NFT has now become crystal clear to all digital artists, creators, collectors, and traders.
The astounding fact is that with NFTs, you can now be the Leonardo Da Vinci of your artistic niche and at the same time, monetize your masterpieces by developing your White Label NFT marketplace.
This blog post entails the basics, benefits, and features of the White label NFT marketplace and elaborates on the best design and development practices for establishing a trustworthy NFT marketplace.
---
---
1 . What is a White Label NFT Marketplace? An Overview
A white label NFT marketplace is a pre-built and ready-to-deploy digital trading platform where anyone can buy, sell, and bid on NFTs. Thanks to the path-breaking technology, Blockchain, which made the creation of unique and irreplaceable NFTs or digital collectibles possible.
The scarcity and singularity attributes ensure that no anonymous user or third party can replicate someone else's artwork for personal monetary gain or interest.
The platform meticulously examines the legitimacy and originality of the NFTs and their owners. The marketplace works in the same way auction houses demand product authentication before a bid is placed.
A specialized and tested marketplace for NFT trading provides ample opportunities for creators to monetize their digital assets.  In fact, this ready-made solution is customizable and can be tailored to cater to specific business needs.
2 . Benefits of a White Label NFT Marketplace for Your Business
There are multiple persuasive benefits of the NFT marketplace that compel businesses and entrepreneurs to venture into the NFT world with a top-notch white-label NFT marketplace. Let's take a look at its noteworthy advantages.
Time-efficient
Building a traditional NFT marketplace is a time-consuming affair, extending more than three to four months. White label marketplace is pre-built and hence, requires only a minimum level of customization to launch.
The drawbacks of building an NFT trading platform from scratch can be addressed with a pre-made white label NFT marketplace as it expedites the process of development.
The streamlined method ensures that businesses get to make the most of the market opportunities and stay ahead of the competition.
Customizable
With the underlying framework of the marketplace already set, the only thing that needs focus is customizing it as per your business needs. You can incorporate your branding elements and  UX requirements to make it a one-of-a-kind and brand-focused marketplace.
By striking a perfect balance between customization and scalability, the White label NFT marketplaces guarantee that the platform stays updated and meets the preferences and expectations of the target audience.
Cost-effective
Since this type of NFT marketplace is not built from the ground up with intricate processes of coding and testing, the cost is comparatively much lower. Particularly, for startup and medium-sized companies where budget is an issue, While label solution is the savior.
It relieves them from the financial burden of developing a traditional NFT marketplace with exorbitant costs. They can get a fully functional and customizable NFT marketplace with a minimum investment.
Simplified Integration
Building an NFT trading platform involves complex integration such as digital wallet, payment gateways, user interfaces, smart contracts, and community features.
The integrations in a White label platform are pre-configured which allows businesses to deliver a flawless user experience. With the key features already integrated, your platform owns a chance to stand out from other NFT marketplaces and add value to your users, boosting revenue, and conversion rate.
Built-in Security
The unique nature of the NFTs demands that proper attention be paid while establishing asset ownership. Built-in security features and pre-configured security protocols in the white label NFT marketplaces minimize the risk of threats to NFT assets.
Since they are already equipped with security features, they ensure that the distinguished assets of the creators remain secure and immune from vulnerabilities.
Scalability
 White-label NFT marketplaces offer great scalability and flexibility to ensure they accommodate a large number of active users and handle more asset inventories without any interruption. The seamless customization guarantees that your company's branding is adequately reflected in your NFT shop.
The domain name, design, and features can be specifically tailored to your NFT project needs. In fact, it offers businesses a great level of flexibility and convenience.
3 . Key Technical Features of a White Label NFT Marketplace
White Label NFT marketplace has gained momentum over the past few years and has become a subject of interest for entrepreneurs and stakeholders due to its high customizability and cost-effectiveness.
Features of any platform can make or break its success. However, with faster time to market and high-end functionalities, white label NFT marketplace has been topping the charts. This segment outlines the significant features that are must-haves in an NFT marketplace.
Custom Design and Branding
The white-label NFT marketplace offers businesses immense scope to customize the platform in a way that resonates with their brand. Whether it is the logo, color choices, graphical elements, or the platform's overall look and feel, everything rests in your hands.
Customizing the platform according to your brand's tone and message will help you connect better with your target audience and enhance recognition in the industry. Customized platform branding and design ensure a higher level of user engagement.
Scalability
The scalable infrastructure of a White label NFT marketplace ensures that it can handle the sudden inflow of traffic and larger volumes of transactions without affecting the platform's performance.
A robust White label NFT trading platform emphasizes performance optimization, swift browsing by visitors, and faster page loading. Hence, scalability is a critical aspect for every NFT marketplace because you need to prepare to accommodate growing numbers of users while maintaining optimal performance during peak times.
Multi-Blockchain Support
The blockchain ecosystem is diverse, encompassing multiple networks and types. Hence, it becomes an absolute mandate for an NFT marketplace to be able to support multiple blockchain networks.
Multi-blockchain compatibility implies that your NFT trading platform supports various blockchains, thus allowing users to trade NFTs on networks of their choice like Ethereum, Polygon, Flow, Binance Smart Chain, etc.
A white label NFT marketplace with multi-blockchain support ensures that users enjoy a seamless experience by having access to a wide range of NFTs. Moreover, it helps your business capture a broader market by drawing the attention of users of several blockchain communities.
Read Also: Introduction to Private Blockchain: A Beginner's Guide
Wallet Integration
Any NFT marketplace should seamlessly integrate with popular crypto wallets and a White label NFT marketplace is no exception to this! When users are able to connect wallets of their choice to the platform, it enhances their NFT trading experiences.
White label NFT marketplace allows flawless integration of the industry's popular wallets like MetaMask, Coinbase, and Trust Wallet into the platform. Besides initiating secure transactions through the wallet, NFT enthusiasts can view their collections and store cryptocurrencies.
Without a wallet integration feature, the onboarding process of the users becomes cumbersome and results in poor user convenience. A user should be able to easily manage NFTs, trade, and interact with the platform directly from their wallets.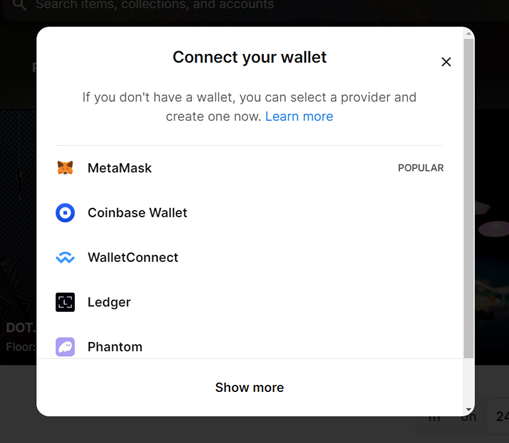 NFT Minting & Listing
Another fundamental characteristic of an NFT marketplace that you simply cannot ignore is the power of minting and listing NFTs. Every platform must have an intuitive interface that allows creators to mint their distinguished non-fungible tokens and has complete ownership rights over the assets.
Additionally, an NFT artist should be able to list those NFTs in a very simple and clean manner to attract maximum potential buyers. To make way for a vibrant marketplace with loads of passionate token creators, a marketplace should offer easy NFT minting and listing options.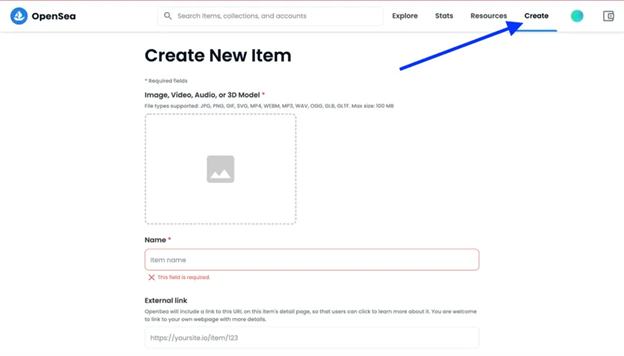 Auctions & Bidding
Providing users with the auction and bidding facility in the NFT marketplace promotes user engagement and excites them for competitive bidding. With dynamic pricing and automated bid increments, buyers indulge in intense competition to acquire their favorite NFTs.
Further, a white label NFT marketplace lets its users track their bid histories and place bids effortlessly. It promotes a healthy trading environment for the participants and drives their overall trading activities.
 Royalty Management
 Another factor that the white label NFT marketplace takes care of is royalty management. As the marketplace involves buying, selling, and reselling digital assets, the original creator receives a percentage of the sale price every time from a secondary sale of his or her assets. This is referred to as royalty payment.
A built-in royalty management system in an NFT trading platform is of great advantage to both platform owners and creators because it automatically calculates royalties and distributes them to the creator.
It ensures creators are incentivized for their creation and continue to enjoy a sustainable source of income. This strengthens the relationship and builds trust between the creators and platform owners.
4 . How to Build a White Label NFT Marketplace: Step-by-Step Guide
Since you have scrolled through the benefits and advantages of a white label NFT marketplace, it can be assumed that you are curious about further details of this innovative trading platform.
 If you are interested in building your own ready-to-deploy NFT marketplace, then you need to follow the below steps.
Step 1: Defining your business strategy
Before proceeding with the development stages, you need to have a clear understanding of your requirements and proven business strategy. The facets that need to be considered in the strategy analysis phase are the marketplace design, features, blockchain network, selection of monetization model, token standard, and other such critical aspects.
Step 2: UI/UX development
Your white label NFT marketplace will be a reflection of your brand and at the same time, unique from the rest of the NFT trading platforms out there. To ensure this, you need an aesthetically designed marketplace that appeals to your users.
To make your platform unique and visually attractive, you need to customize the UI and UX features such as the business logo, brand colors, theme, and other modifications.
Step 3: Selecting Blockchain Network
This stage holds paramount importance in the entire development process because you need to choose a blockchain network that suits your business and platform needs. There are plenty of blockchain platforms available for you starting from Ethereum to Polygon, Cardano to Binance Smart Chain, Solana, and more.
If you are befuddled by so many options, approaching an experienced blockchain development company is the best thing to do! Based on your platform requirements, maintenance fees, and transaction speed, they will suggest you the appropriate blockchain network.
Step 4: Determining Token Standard
The step that follows next is the token standard because this aids in NFT minting on your chosen blockchain network. There are multiple non-fungible token standards like ERC721 and ERC1155 which are used for representing ownership rights of NFTs.
The token standards have unique codes in the form of metadata which differentiates an NFT from another NFT,  making them unique and non-interchangeable.
Step 5: Creation of Smart Contracts
Smart contract development is the cornerstone of your NFT trading platform. It is imperative for the success of your white-label NFT listing store because it aids in the verification and validation of NFTs minted.
Through smart contracts, the creators are assigned ownership of their distinct digital assets. Since it is a self-executing virtual agreement, it facilitates faster verification and processing of transactions between NFT buyers and sellers.
Step 6: Integration of IFPS Storage 
All the NFTs featured on the marketplace are securely stored within an IFPS storage database system, which serves as a means for blockchain networks to store user data information.
Furthermore, numerous white-label non-fungible trading platforms include a built-in IFPS system which obviates the need for the reintegration of IFPS storage.
Step 7: Test Your Platform
To guarantee the flawless performance of your marketplace, it is vital to conduct rigorous testing.
Engaging the expertise of White label NFT marketplace development company can significantly streamline the testing process. They will pinpoint any security concerns or shortcomings within your NFT trading platform and implement preventive measures in advance.
Step 8: Deploy NFT Marketplace
The last and final stage is platform deployment. Upon completing the above seven steps, your white-label NFT trading platform is absolutely prepared for launch.
Step 9: Marketing your NFT marketplace
After launching your marketplace, you need to create buzz and generate excitement among NFT creators and potential buyers to draw genuine traffic to your NFT listing store.
You can initiate various marketing strategies offered by a digital marketing company, which include AirDrop campaigns, landing page creation, social media marketing, and more. Also, consider exploring other marketing tactics like issuing press releases, collaborating with influencers, and providing incentives to early adopters.
5 . White Label NFT Marketplace vs. Building Your Own
White label Marketplace triumphs over scratch-built NFT Marketplace for some obvious reasons and it is impossible for any business to ignore them.
Without further ado, let's get into the details of why investing in a white label NFT trading store is better than relying on the traditional method of building from the ground up.
 The first and foremost reason why white label platforms have an upper hand over traditional "Build your own" platforms is that it significantly takes less time to launch to the market.
With existing underlying infrastructure and pre-built templates, you can get your marketplace up and running in no time. If you choose to design and develop your own marketplace from scratch, it will take months to finish.
 Apart from being time-consuming, developing your own custom NFT marketplace from zero is a costly affair. On the contrary, a white-label solution is inexpensive because it doesn't involve early development expenditures.
In addition to this, there is no continual payment of maintenance fees like in the custom NFT marketplace because the white label service provider takes care of the maintenance and they are readily accessible whenever you need any help.
NFT marketplaces house millions of unique NFT tokens whose ownership rights need to be taken care of by the service providers. Asset security and data integrity must be ensured by implementing stringent security measures.
When you go for a white label NFT marketplace,  you need not worry about token security because it is already equipped with in-built security.
Also, you need not spend a single penny on security auditing because the white label NFT solutions provider thoroughly tests and audits the platform before launching.
Businesses often remain under the misconception that white label solutions are non-customizable and so, they stick to developing a platform from scratch.
But this is not true! The design of your white label marketplace can be customized as per your brand tone, colors, and theme. With uncountable options for design templates, you have greater control over the design and outlook of your platform.
 Another major advantage of using a ready-to-deploy NFT marketplace is access to advanced pre-built features that enhance the trading journeys of the users in the platform. From user profile management, payment gateway, transaction processing, placing bids, royalty payments, and user authentication, everything is already in place.
 Integrating these features on a custom and scratch-built NFT marketplace takes time and is also the reason for the high development cost charged by NFT marketplace development companies.
6. How does the White Label NFT Marketplace Work
A White Label NFT marketplace functions in the same way any online marketplace does. It is a virtual platform connecting buyers and sellers of NFTs. Programmed with smart contracts,  the NFT marketplace allows digital artists to create or mint unique assets.
The technical aspects of the trading platform such as hosting, maintenance, and security are taken care of by the service provider. Here's a quick rundown of the process or functioning of a white label NFT marketplace.
NFT creation  – Artists leverage the "mint NFT" feature of the platform to create unique artworks which can be anything, from images, paintings, music, gifs, videos, short clips, and more.
Listing NFT – After the minting is complete, the NFT is listed for sale by the creators by specifying the details of the NFT such as description, title, any external link, and other information. The information gets stored on the blockchain network.
Price of NFT – The creators or sellers can either set a fixed price or a bidding price through an auction system to sell their NFTs. Once the price is determined, buyers can start bidding to purchase the NFT.
NFT Purchase – NFT purchase is made by buyers using cryptocurrency, after which the NFT is transferred to the buyer's digital wallet.
 Transfer of Ownership – The last and final step in a white label NFT marketplace is the transfer of asset ownership with the help of a smart contract. After ownership transfer, buyers can either hold the asset as a precious possession or resell it in the marketplace.
Read Also: Understanding Multichain in Blockchain: A Detailed Insight
7 .  Five Best White Label NFT Marketplace Solutions
Choosing a white label NFT marketplace solution provider is a tough call to make. To help you with this, we have handpicked the best 5 white label NFT marketplaces based on certain criteria.
OpenSea Clone
 OpenSea is the largest and most popular NFT marketplace to exceed the billion-dollar mark. Hence, undoubtedly OpenSea clone is the first choice for businesses and investors who want to launch their own NFT trading platform.
OpenSea clone script offers several salient features which are as follows –
Seamless onboarding
Multi-chain support
Multiple wallet integration
Customizable storefront
Effective NFT listing
NFT Minting
NFT Staking
User authentication
Highly secured admin panel
Hassle-free Auction
Dark-theme Support
NFT Royalty
Rarible Clone
Built on the Ethereum network, Rarible has a huge audience base and has been ruling the market since 2017. The first implementation of the Rarible platform took place in 2017 with Crypto Kitties.
Rarible clone script is the most popular white label solution after OpenSea with a large number of active users across the world. This exclusive platform comes with a variety of domains and add-on features.
Reasons that make Rarible Clone the favorite choice of NFT creators and sellers are –
In-built crypto wallet
Easy management of NFT
Multi-payment gateway integration
A diverse range of NFT collections
Armed with hack-proof security features
Ethereum Token Standard
Enjin Clone
Enjin Clone is another top-level blockchain-based white label NFT marketplace and gaming platform where creators can mint NFTs and trade their in-game assets as NFTs. Its clone script is customizable, thus providing creators with an exclusive platform to showcase their talents and sell them to NFT collectors.
The core features that you can enjoy with Enjin Clone Script are –
Instant search results
Multi-lingual support
Data and night mode
Responsive for web, mobile, and desktop
No Ads
Royalty Payments
Proven security
Social profiles & chat option
Creator ratings
Binance NFT Marketplace Clone
It is a replica of the existing Binance NFT marketplace which stores information on its own blockchain network called BNB chain. The clone script possesses all the features of the existing Binance NFT trading store which include easy buying and selling NFTs, minting NFTs, and storing and managing digital collectibles.
The business-specific features that the Binance Smart Chain NFT marketplace clone script provide –
Customized Storefront
Multiple crypto wallet support
Virtual gallery
Advanced Filter and search
Easy buy and sell NFTs
Bid NFTs
Bidding History
Activity Tracking
Payment Gateway
Superrare NFT Marketplace Clone Script
The Superrare NFT marketplace is very easy to replicate using its clone script. It offers businesses the advantage of creating a brand-centric NFT trading platform quickly at an affordable cost.
The outstanding benefits that platform owners get to explore with Superrare NFT marketplace clone are –
Easy Minting and listing NFTs
Unified Interface
Managing Listed collections
Bid & Buy
Easy Royalty Claim
Curated Gallery
Voting System
Hassle-free NFT browsing
Follow Top Artists
Multi-currency Support
8. NFT Marketplace UI/UX Design Best Practices
UI/UX design for your white label NFT marketplace can be quite a tough task to accomplish. Incorporating the highly complex blockchain mechanism or decentralized protocol into a user-friendly platform is certainly not a piece of cake.
Well! To help with this part, you need to follow some best design practices mentioned below. These tips & tricks ensure that you get a perfect NFT marketplace for your audience.
You need to design your platform based on your target market, user persona, and user journey in the marketplace. If it is meant for a specific type of NFTs, then the design should appeal to the creators and buyers who have a knack for the niche.
An example of a music NFT platform designed by a creative designer using a vivid illustration is shown below.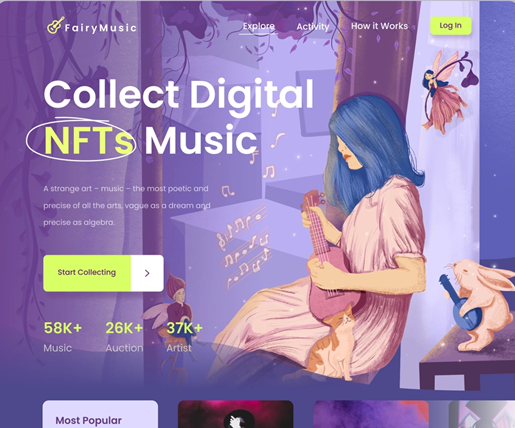 Be mindful of the color palette
One more piece of advice you need is to keep the UI/UX design minimalistic and more reserved instead of loud. Choosing overwhelming colors and bright elements can turn your platform messy and unlikeable.
A plain or neutral background with sophisticated typography prevents visitors from distractions and makes NFTs their prime center of attention.
 Parallax animation is the newest trend adopted by web designers these days to add some dynamics to the platform. In parallax animations, the visual items get rolling one by one while the users scroll through the page.
It is an eye-catching way to organize information on the page while giving users a visually satisfying experience. Since NFT platforms are filled with thousands of items, this scrolling technique with aesthetic design can be beneficial in keeping the items in order and the navigation effective.
Easy access to NFT information for users
Giving users what they need in the first place assures that they will keep coming back to the platform to buy and sell NFTs. In a non-fungible token, what matters most is the token information.
The marketplace should be designed in a manner where users need not struggle much to find or access any token information. The ownership, trading history, and all the data about the NFT  can be tracked easily on the same page where the NFT is shown.
 An easy-to-find and user-friendly search box should be there on the page to simplify the search process of the users. Providing them with advanced search filters or predicting what they want to see first makes the users happy and satisfied.
For instance, users can search for NFTs under various categories of art, music, games, etc., and also sort them based on their popularity, price, etc.
Dark background prevails over light mode in NFT marketplaces because of some major reasons. First of all, it allows users to keep their focus straight on the tokens instead of getting distracted. Secondly, black contrasts a majority of colors and highlights the elements in bright colors, thus helping users see them better.
Also, let's not forget the fact that dark mode offers great comfort to the eyes. Since NFT minting and trading is a lengthy process. the dark theme seems more easy on their eyes while constantly staring at the screen.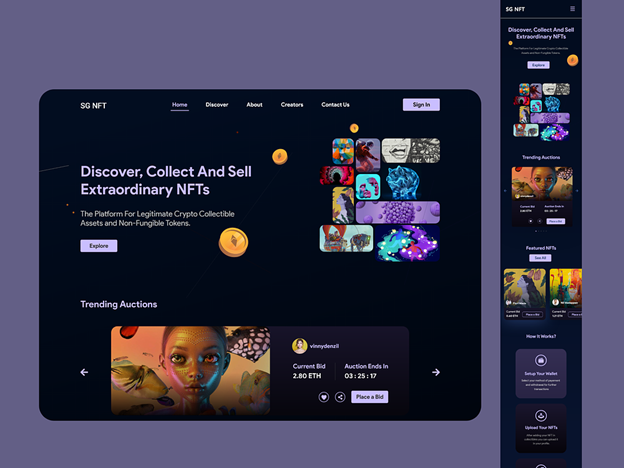 9 . Security Considerations for White Label NFT Marketplace
Although a white label NFT marketplace has in-built security features, it is imperative to pay attention to certain security considerations to ensure the reliability of your platform.
To maintain the reputation of your NFT store and safeguard the interest of your users, here are some preventive measures you need to follow.
Using a secure development environment – Every aspect of your NFT platform, from the operating system, database, and web server should be upgraded to the latest versions and consistently updated with the latest security patches.
Secure coding practices – You should adhere to secure coding practices such as robust password usage and averting SQL injection attacks.
Smart contract security – Implement security measures while integrating smart contracts into the platform. These include secure coding practices, access control, and auditing.
Use 2-factor authentication – Using two-factor authentication (2FA) mechanism for user logins and augmenting security by mandating a phone-generated code alongside their password reinforces the security of the user profiles.
 Cold Storage Wallet for NFTs – Using a cold storage wallet for NFT storage instead of a hot wallet strengthens defenses against potential hacking or theft.
 Monitor platform constantly – Vigilantly scrutinize your platform for security threats by employing security tools to scan for vulnerabilities. Also, monitor logs for any signs of suspicious activity.
Implement fraud prevention system – Deploying a fraud prevention system in your white label NFT marketplace can help you easily identify, prevent, and report fraudulent transactions.
Regularly backing up data – You should consistently back up your data to protect your data and its resilience against potential security breaches.
Educate users about security measures – You need to spread user awareness of security best practices, instruct them on crafting strong passwords, and safeguard against phishing attacks. Educate them on how to report any dubious activity.
10. Future of White Label NFT Marketplace: Trends and Predictions
NFT marketplace brews billion-dollar revenue with its market size recording the mark of $41 billion by 2021. So, yes! The industry definitely looks booming with so many exhilarating NFT marketplaces.
In fact, the presence of White label marketplaces enhances community engagement by attracting millions of creators, artists, and ardent NFT collectors, across the world. NFT store development is worth investing in because its returns are always high.
There are endless creative minds who are waiting for an opportunity to showcase their unique talents and earn recognition. So, there is no halt or slowing down of NFT marketplaces because the eagerness of creators to get noticed and monetize their artwork will never die.
Also, the emerging trends and growing volumes in NFT sales imply that the future of the NFT marketplace is shining. This can be further ascertained with more use cases of White label NFT marketplace in gaming, real estate, media & entertainment, etc.
Last Thoughts
The art world underwent a remarkable transformation with the origin of the White label NFT marketplace. In simple words, these NFT trading platforms are revolutionizing the way digital collectibles like artwork, images, music, videos, etc. are owned, valued, and traded.
Needless to say, the soaring popularity of NFTs is offering a multitude of profitable and lucrative business ideas. As a leading White Label NFT marketplace development company, Webgen Technologies USA aims to fulfill the dreams of entrepreneurs of getting a spotless and foolproof NFT marketplace business model.
With our extensive expertise in blockchain technology, we strive to create your desired platform with built-in security, flexibility, and preferred payment options. Our mission is to deliver ready-to-deploy white-label NFT marketplace development that provides the best user experiences to your customers.
Thanks for reading! If you have any questions or want to know more about white label NFT marketplace development, feel free to leave a comment below.