Exploring The Benefits of Private Blockchain In Businesses
August 9, 2023

471 views

13 minutes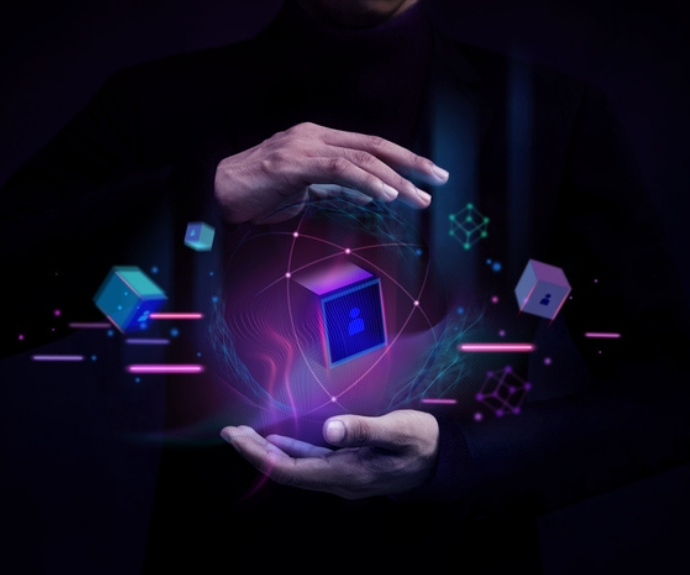 The term "Blockchain" is something we have been hearing and reading about a lot everywhere these days! Isn't it? And, the reasons are quite obvious.
Blockchain is a game-changing technology that is soon to become mainstream as a promising technology solution across diverse industry verticals.
Although the entire blockchain game started with Bitcoin while it was still in its infancy phase, enterprises today are ready to leverage this ever-changing technology in its full-fledged shape.
Blockchain is of two types – private and public. Cryptocurrencies like Bitcoin and Ethereum are examples of public blockchain that is decentralized and permissionless.
On the contrary, a private blockchain is permissioned and partly decentralized. As the name suggests, Private blockchain is private which functions in a closed blockchain ecosystem providing restricted access.
The notion of a Private Blockchain is that only selected members who are given permission can access the network for facilitating transactions, asset transfers, or exchange of information.
Give this blog post a read to understand better the concept of private blockchain, its business benefits, and real-world use cases.
---
---
How Private Blockchains Can Benefit Your Business
Private blockchain technology is nothing short of a disruptive innovation for a business that chooses to utilize and master it. In fact, it is, at the moment, one of the key driving forces for business transformation.
Most importantly, private blockchain has helped businesses overcome the critical challenges that every traditional business model faces on a day-to-day basis. These include autonomy, time-consuming work processes, payment barriers, less or no security, and higher costs.
With blockchain, business entities, to a great extent, can enhance their existing business models and strengthen a higher level of trust and security in an ecosystem.
Let's have a quick rundown of the incredible benefits of private blockchain in businesses.
Increased Privacy
Usually, Private blockchains are close networks operating on a small scale with only a few members. The permission to access the network and members' visibility are governed by a blockchain administrator.
This feature of private blockchain makes it appropriate for implementation in corporate environments.
Business organizations choose this technology to keep their business-critical and sensitive information safe and private, accessible only by authorized members.
Financial institutions where a higher level of secrecy needs to be maintained to ensure corrupt-free and conflictless work processes and administration in the system have benefited the most from this leading-edge innovation.
Greater Transparency
Generally every organization or individual in an organization has to keep and maintain a separate database for the efficient functioning of the business or internal workflows.
However, with blockchain, data, transactions, or any other information can be recorded and stored correspondingly in multiple locations. The data when recorded are time and date-stamped, thus making it immutable or unchangeable.
The system of multichain in Private blockchain allows more than one business organization to participate in independent chains that are interconnected within the same network. The primary objective here is to maintain transparency in transactions while ensuring the privacy of the participants or organizations in the network.
Since all the participants have permissioned access to the same information and transaction histories at the same time, the chances of committing fraud are eliminated.
Improved Traceability
The private blockchain documents every single piece of information and transactions at every step, thus creating an audit trail. Hence, if anyone in the network is concerned about the ownership rights of their tokens, assets, or any other transactions, this traceability feature serves as proof.
One can even share their provenance with others in the chain or directly to their clients by using the data recorded.  Also, in cases of supply chain management, traceability helps reveal any kind of weaknesses that causes delay in the distribution and delivery process.
 Increased Efficiency
Another remarkable advantage that private blockchain brings is increased operational efficiency and speed. Most work in business organizations involves tedious and heavy paper works which is not only very time-consuming but also prone to errors by humans.
With blockchain technology, you can streamline and speed up these internal business processes and also get transactions completed faster. Further, automation eliminates human errors and maximizes efficiency.
It allows easy storing and sharing of records on a decentralized ledger system along with the transaction details so you don't need to exchange information on paper. Also, clearing and settlements of transactions are much faster because reconciling multiple ledgers is no longer required in private blockchains.
Read More: How Blockchain App Development Streamlines Your Business Operations
Reduces Cost
Although integrating private blockchain into the current system requires a certain amount of investment, in the long run, it lowers the company's cost. By implementing blockchain, you can divert their finances into something new like additional services, or improving the current system.
Manual processes dominate traditional business models and most of the time, require 3rd party involvement. This adds up to the total expenses of a company and causes a steady rise in the cost in terms of hiring services of the vendor or third party.
Leveraging blockchain frees an organization from having a centralized player or controlling authority. This saves the fees for intermediaries that are no longer necessary and brings down the cost of the organizations.
Increased Security
For every business environment, the protection of sensitive company information and data is critical. Storing records in a centralized server with a controlling authority poses potential threats of information leakage, misuse, or theft.
The permission control attribute results in an additional layer of security while ensuring data integrity. Most private networks are set up following the pre-defined security guidelines regarding data visibility and information exchange.
Any data stored and shared in the authorized network is immune to outsider threats. Only permissioned members are authorized to access, use, or perform certain activities using the data. Therefore, they are tamper-proof and impossible to delete, change, or copy by any outsider.
Top Industries Leveraging Private Blockchains
The exemplary benefits of private blockchain have profoundly transformed the way businesses function. And it is evident from the fact that the most important industrial sectors have embraced private blockchain to drive their business forward.
Let's take a look at the industries where blockchain has played a disruptive role.
Finance & Banking
One sector in which blockchain has a far-reaching effect is the finance industry. Institutions offering various financial services are entering the blockchain bandwagon by establishing their cryptocurrency units like JPMorgan developing its own currency JPMCoin powered by blockchain technology.
The first and foremost benefit that blockchain brings to the sector is facilitating transactions faster, even in cases of cross-border payments. The conventional method of money transfer involves a transaction fee, transfer rate, and other hidden charges. Also, the process takes much longer time, almost a week, and is less secure.
Blockchain technology disrupts the banking system by offering a secure payment system in a peer-to-peer network with low fees. There is no centralized or controlling authority since all the transactions are transparent and traceable by all the permissioned users in the network.
In short, private blockchain strengthens the security of financial transactions while processing payments in seconds. So why pay more and fear safety when you can get all your national and international payments done much faster, cheaper, and without any stress? The use of private blockchain is certainly a breakthrough in the finance market.
The below graph depicts the global market size of blockchain use in the banking and finance sector from 2018 to 2026. It is estimated to grow to 22.5 billion dollars in 2026.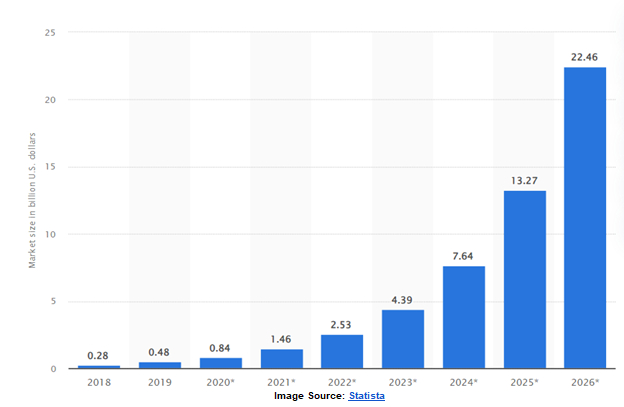 2.Supply Chain Management
 The traceability quality of the private blockchain makes it absolutely necessary for the supply chain industry to utilize this cutting-edge technology. It allows sellers, distributors, administrators, and others in the supply chain management system to track information effortlessly in real-time.
Further, by tracing every single step in the supply chain, the company owners can identify loopholes or bottlenecks in the system and implement corrective measures simultaneously.
In simple terms, blockchain provides the utmost transparency to the supply chain partners and facilitates easy validation of transactions. Any transactions made in the private blockchain network are recorded permanently. These are immutable and verifiable, thus making it easy for the customer or owner to view and validate each record.
3.Cybersecurity
In the ever-evolving digital world, cyberattacks are one of the significant threats and need to be addressed carefully otherwise data breach incidents like Equifax would become very common in every sector and business. Nearly 143 million customers' data were at stake due to a gigantic data theft that occurred in this credit bureau company and turned the world upside down.
Blockchain can bring an end to such a nightmare by providing companies with a secure solution to protect their data. Being a decentralized ledger, it is most suitable for business environments or other organizations where high-grade security is involved.
Any information recorded on the blockchain is end-to-end encrypted and verified with a cryptographic algorithm that restricts access to any outsider. With private blockchain, there is no single point or entry of any kind of cyber attack.
4.Healthcare
 Let's accept it! The healthcare sector is a vast sector that deals with large amounts of data daily. And the storage of such large datasets is quite a complicated affair. Mostly, they are stored in centrally located files or servers which are prone to data loss, breach, or theft.
Also, accessing the data takes hours because you need to search for the exact location where your file is stored on the server. This is where the need for blockchain comes in!
Besides providing hospital authorities, doctors, and other healthcare professionals, with rapid access to patients' data, private blockchain eliminates the need for an intermediary. Blockchain makes the most sense in this critical sector because privacy and protection of medical files, patients' personal information, and past medical histories, are very pivotal here.
Another problem that is solved by blockchain is counterfeit medication. By implementing strict protocols in supply chain management using a private blockchain, the provenance of medicines can be traced easily.
Overall, decentralization of operations in healthcare has become possible due to this game-changing technology. Further, it has strengthened the security, privacy, and interoperability in the sector.
5.Government
 Wondering what blockchain can do for the government sector? It can end fraud in the voting system. Casting votes physically or via email increases the possibility of committing frauds like ballot rigging or electoral fraud.
To avoid such unfortunate instances, the use of blockchain can be a savior. With this, people can vote digitally without being required to reveal their identities. Election fraud becomes next to impossible in a highly secure online voting system powered by blockchain.
Additionally, on the government's part, the process of counting votes by government officials is streamlined. Since every ID equals one vote and gets added to the ledger as an immutable record, counting can done with absolute accuracy without fearing any fraud or tampering.
6.Real Estate
The real estate sector has also benefitted tremendously from the introduction of blockchain technology. Being a conservative industry with restricted entries, the sector is mainly faced with challenges like improper execution of contracts, delays in ownership transfer, lack of transparency, and more.
Thankfully, with a private blockchain, property owners, managers, brokers, agents, and lenders can heave a sigh of relief.  Not only transfers of properties can be done faster, but also tokenization of assets become possible.
Besides asset tokenization, blockchain enables the seamless execution of property agreements with the use of smart contracts. The need for middlemen is also no longer necessary as smart contract development facilitate the collection and distribution of payments to beneficiaries.
7.Media and Entertainment
The media and entertainment industry is primarily based on legacy systems where initially copies of movies, music, and others are distributed in hard-copy formats. But with the advent of the internet era and digitization, these are now released in digital format.
Integrating blockchain technology provides actors, producers, song composers, creators, etc. a two-way benefit. One is a decrease in intellectual property infringement through fraudulent duplicate copies and digital piracy.
They can secure their unique intellectual properties or talents by tokenizing them. Conversion of music clips, video clips, interviews, etc. into digital tokens with the help of NFT development.
The second advantage of blockchain is it allows direct monetization of digital assets with secure peer-to-peer micropayments powered by smart contract functionality.
Case Studies of Successful Private Blockchain Implementations in Business
The adoption of Private blockchain across the corporate world is playing a key role in revolutionizing the work process and controlling admission. By limiting access to sensitive data and transactions, this revolutionary technology is helping organizations secure their internal system and partner's privacy.
Here are some real-world examples of the use of blockchain by various businesses across the globe.
American Express
It is one of the early adopters in the banking and finance sector to take advantage of this distributed ledger technology. This credit card brand deployed a blockchain pilot in May 2018 which allows merchants to provide long-time cardholders with a specialized loyalty reward program.
The role that private or permissioned blockchain plays here is the creation of a private channel to facilitate secure information sharing of each reward merchant. Further, the implementation of smart contracts helped these merchants fulfill the rewards to their customers automatically while sending back the transfer information to American Express securely.
Renault
Renault launched an innovative blockchain-based platform, XCEED, as a solution to compliance management in vehicle certifications. Renault expects that this project will be a game-changer in the supply chain in the automotive industry.
This new blockchain solution certifies the compliance of vehicles and their components from design to production. It is considered a tool to meet the transparency demands of the original equipment manufacturers (OEMs) and suppliers throughout the supply chain.
XCEED is an inclusive platform that aims to boost responsiveness, sustainability, and efficiency at a time when regulatory stringency has become larger than ever. With enhanced regulatory controls and new market surveillance standards, it becomes essential for the production chain to adjust to the new structure in the least time frame.
This blockchain-powered XCEED serves as a conformity and compliance traceability platform that allows the sharing of compliance information in a trusted network. The purpose of the platform is to ensure efficient vehicle compliance management while keeping data ownership, intellectual property rights, and the company's confidentiality safe and secure.
Ticketmaster
Being the world's biggest ticket distributor, Ticketmaster was the first to seek a permanent solution to fraudulent tickets, which is one of the biggest challenges faced by this billion-dollar ticket industry.
It launched a pilot private blockchain platform integrated with smart contracts for the Pearl Jam concert in early 2020. This system helps buyers and sellers check the legitimacy of their tickets before making the final payments.
Since this blockchain adoption, the ticket industry has been able to verify and validate the tickets, better price discovery, and reduce the occurrence of counterfeits.
De Beers Group
De Beers Group is the world's largest producer of diamond jewelry. This British corporation specializes in diamond retail, trading, mining, and exploitation. De Beers recently launched its blockchain-based platform Tracr aimed to provide transparent and tamper-proof provenance assurance at scale.
This private blockchain platform is a secure digital ledger that will trace the journey of conversion of raw diamonds from mining to cutting and polishing to distributing to jewelers. This platform stores immutable information on the diamond's sources across the value chain. This underpins trust among the industry stakeholders and establishes the diamond's authenticity and provenance.
With advanced security and privacy, Tracr makes source assurance 100% and ensures that participants use and access their own data. Further, the decentralized nature makes the platform fast and scalable with a capacity of registering close to one million diamonds per week.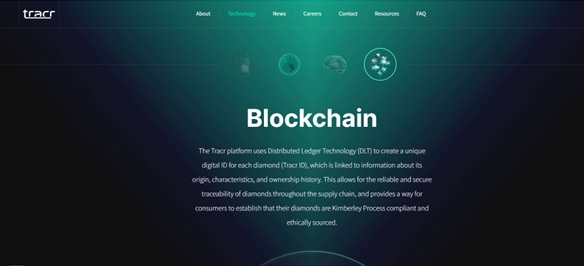 Siemens
Siemens, the German multinational automation giant, introduced a new private blockchain-based project called "Pebbles" to trade renewable energy. The platform allows consumers to reserve electricity from their sources with peer-to-peer energy trading.
After its first launch in 2018, this project was implemented in Wildpoldsried town. This initiative was taken to fulfill multiple purposes, out of which regional energy trading was one. Other objectives were associated with the energy supply domain like electricity generation, consumption, and certification.
Pebbles was developed to serve as a secure and digital platform for local energy trading and represent the potential of the local electricity markets.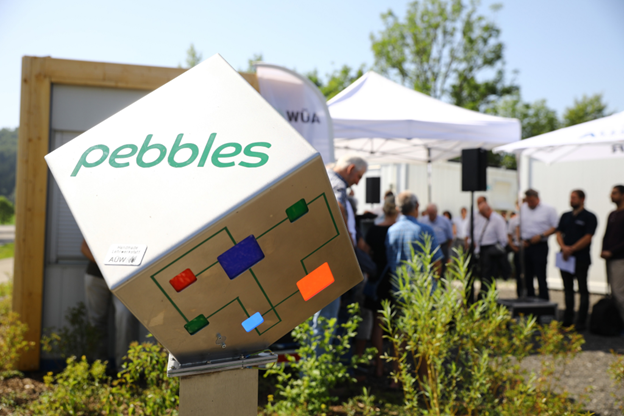 The picture represents the Energiecampus on site where Siemens jointly collaborated with regional utility Allgäuer Überlandwerk to build a local electricity market leveraging blockchain technology.
Future of Private Blockchain Technology
This leads us to the end of this article where it can be concluded that blockchain has a long way ahead and is yet to introduce more promising innovations with its distributed ledger technology.
One thing for sure here is that the future of blockchain, including private blockchain, looks bright. We can expect disruption in the upcoming days in the below areas with this path-breaker.
DLT-based government – Distributed ledger technology (DLT) is not just a short-term fad.  Dubai has already gone ahead with the transition of its paper-based governance system to a blockchain-based system. And this seems the next-big logical thing to focus on by governments across the world.
Multiple Blockchain Collaboration – Although it is possible to integrate different blockchain networks into a unified network in a single organization, the real challenge is to make it beneficial for the customers by forming a collaboration of these networks in an open standard.
More transparency in industries – There is no denying that private blockchain ensures transparency and traceability in transactions. However, many industries are yet to utilize the benefits of transparency and decentralized digital ledger in their operations.
So, we can see that blockchain has risen far above the expectations of the people and their perceived challenges. Furthermore, it is anticipated that blockchain will be combined with the Internet of Things (IoT) to reduce tampering risks, build trust between network participants, and lower operational costs by eliminating the need for intermediaries.
Wrapping It Up
Blockchain has made a tremendous impact on various industries, drawing everyone's attention and giving it a second thought. Most importantly, it has shocked the key players in the finance sector with its power to disrupt the traditional banking and currency system.
These can be considered as an early sign of how private blockchain technology is going to impact other industries and open up new horizons. With significant advantages like unparalleled security, complete transparency, and decentralization, it has become a solid hit among individual organizations and large-scale business houses to operate with greater efficiency and privacy.
In addition to this, most companies are adopting blockchain technology to accelerate the pace of their transactions. Payment settlements now happen instantly which earlier took days and weeks. Although new, the future of this innovative technology seems bright and positive.
Are you curious to learn more about private blockchain development or planning to explore its advantages? Webgen Technologies can assist you with that. Schedule a consultation with our blockchain experts to get a blockchain-based solution.